Choice Reviews Through the Storm, Through the Night
Paul Harvey

Pardon the self-promotion interruption, but you're used to it. Now and then I post reviews from the helpful library periodical Choice of books of interest in our field. Today I'm going to seize the blog to post this review of my new book Through the Storm, Through the Night, especially for those of you contemplating your book choices for next semester's classes.
Harvey, Paul. Through the storm, through the night: a history of African American Christianity. Rowman & Littlefield, 2011. 217p bibl index afp; ISBN

9780742564732

, $35.00; ISBN

9780742564756 e-book

, $34.99. Reviewed in 2012jan CHOICE.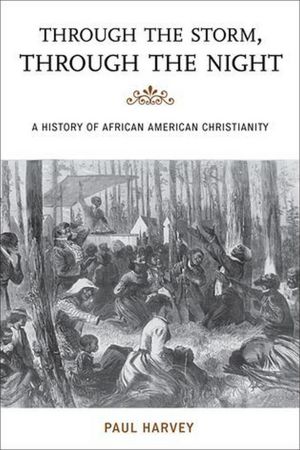 Books abound on the African American religious experience in the US, but Harvey's work is a welcome addition and succinct summary of its 400-year history. Typically in such short monographs, detail is sacrificed for brevity, but Harvey (history, Univ. of Colorado, Colorado Springs) packs great substance through insightful biographies and aptly summarized historical events. He argues against any uniform African American church or religious experience, as African Americans experienced varied contacts with Christianity and often mixed traditional African spiritualism and animistic beliefs. Unquestionably, religious beliefs infused the African American community with hope as they struggled through slavery, Jim Crow legislation, segregation, race-oriented violence, and the civil rights movement. Harvey concludes that though the church is still relevant and Christian denominations are still predominant in the African American community, 21st-century immigrants continue to challenge this narrative, as the Orisha traditions of West and Central Africans, Cuban Santería, Haitian Catholicism and Voodoo, Ethiopian Eastern Orthodoxy, and Islamic influences further heighten diversity. The author notes that clannish and local community traditions among these immigrants overshadow any presumed unity based on skin color. In summary, Harvey creates a broad panoramic of the African American religious experience and challenges future scholars to increase scholarly attention to this field. Summing Up: Highly recommended. All levels/libraries. -- M. S. Hill, Gordon College