Worlds of Billy Graham
Karen Johnson.
Next week, September 26-28, the Institute for the Study of American Evangelicals at Wheaton College will host a conference on The Worlds of Billy Graham. The conference is one of the many outcomes of a two year grant from the Lilly Foundation to examine the life, impact and career of Billy Graham, and many participants of this blog will be interested (and in attendance).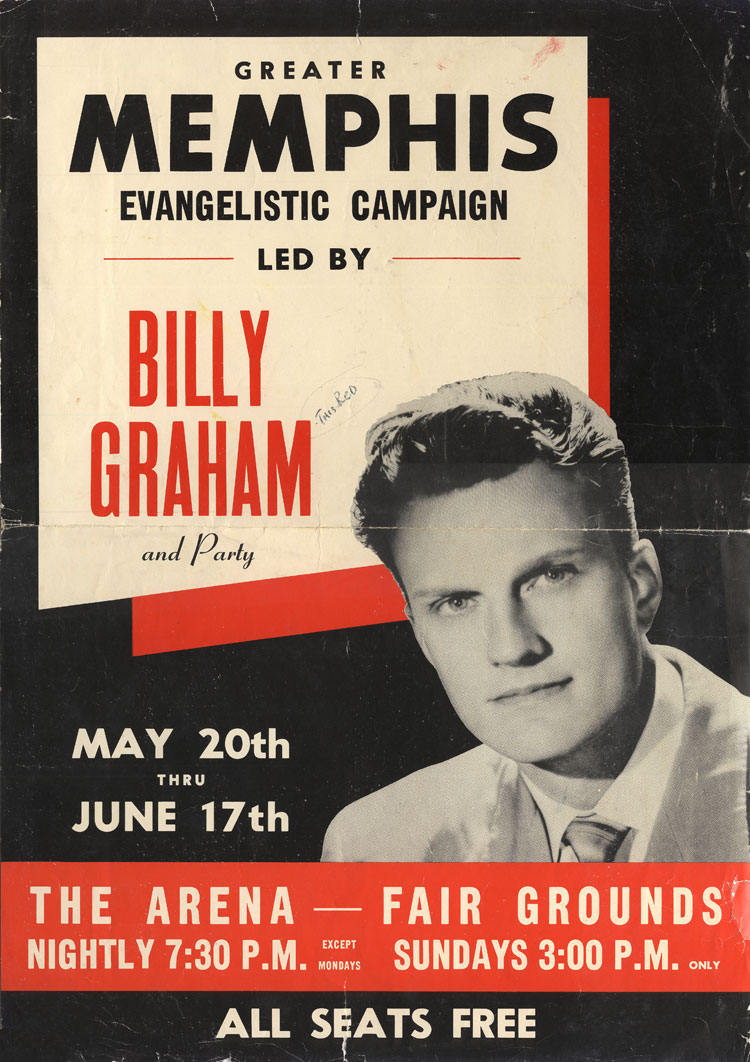 The conference looks fantastic and the schedule is below. For those who want a taste of the work of the scholars associated with this ISAE project without attending, go here to listen to public lectures

given by Andrew Finstuen on Graham and Reinhold Neibuhr, and by Anne Blue Wills on Ruth Bell Graham, Billy Grahamn's wife.
Wednesday, September 25th:
"Pre-conference" Special Lecture 7:00 PM Billy Graham Center Museum
"Panda Huggers and Dragon Killers: Billy Graham, American Evangelicals and Sino-American Relations" Dr. Tu Yi Chao, Fudan University
Thursday, September 26th:
Noon: Billy Graham Film Festival, BGC Museum Theater: Portland (1950) and Continental Europe (1955) film excerpts
4:00 PM: Walking tour of Billy Graham's Wheaton (numbers are limited: contact the isae@wheaton.edu to reserve a spot)
7:00 PM: Barrows Auditorium of the Billy Graham Center
Conference Opening: "Billy Graham and American History" Grant Wacker, Duke Divinity School
A showing of Worldwide Films' Oiltown U.S.A. with comments by Darren Dochuk (Washington University) and William Romanowski (Calvin College)
Friday, September 27th:
8:30 AM:
"From Desire to Decision: The Evangelistic Preaching of Billy Graham" Michael S. Hamilton, Seattle Pacific University
"Singing to Save: The Signature Sound of the Graham Crusades" Edith Blumhofer, Wheaton College
"'You Cannot Fool the Electronic Eye': Billy Graham and Media" Elesha Coffman, Dubuque Theological Seminary
Break
10:45 AM:
"'An Odd Kind of Cross to Bear': Being Mrs. Billy Graham" Anne Blue Wills, Davidson College
"Billy Graham and the Soviet Union" John Akers, Independent Scholar
Lunch
Noon:
Billy Graham Film Festival, BGC Museum Theater: Graham sermons (Philadelphia, 1961 and Hong Kong, 1990)
1:30 PM:
"A Politics of Conversion: Billy Graham's Political and Social Vision" Curtis Evans, University of Chicago Divinity School
"Professor Graham: Billy Graham's Missions to Colleges and Universities" Andrew Finstuen, Boise State University
Break
3:15 PM:
"'Go to Harlem!': Billy Graham and Encounters with Race in an Age of Law and Order" Darren Dochuk, Washington University in St. Louis
"Those Welkin Eyes: Billy Graham and the Enigma of the Modern South" Steven Miller, Webster University
Dinner Break
6:30 PM:
"Sneak Peek" of new documentary by filmmaker Tim Frakes on the impact and legacy of Billy Graham's Crusades. BGC Museum Theater
7:30 PM:
A Billy Graham Community Sing with BGEA Musicians Tom Bledsoe and John Innes
Saturday, September 28th:
9:00 AM:
"Preaching Good News to the Poor: Billy Graham and Evangelical Humanitarianism," David King, Memphis Theological Seminary
"Billy Graham and the New Evangelical Manhood" Seth Dowland, Pacific Lutheran University
Break
10:45 AM:
Roundtable: Leighton Ford, Jean Graham Ford, Martin E. Marty, Ken Woodward
Leighton Ford, formerly Associate Evangelist and Vice President of the Billy Graham Evangelistic Association is Billy Graham's brother-in-law and the head of Leighton Ford Ministries; Jean Graham Ford is Billy Graham's sister; Martin E. Marty is Fairfax M. Cone Distinguished Service Professor Emeritus of the History of Christianity at the University of Chicago Divinity School; Ken Woodward was the long-time religion editor for Newsweek magazine.
Noon: Billy Graham Film Festival, BGC Museum Theater: "The World of Billy Graham" (ABC, 1961) and "This Week With David Brinkley" (1982).
Go to http://www.eventbrite.com/event/3600207317# to register for the conference.